Description
Purair ECO Ductless Fume Hoods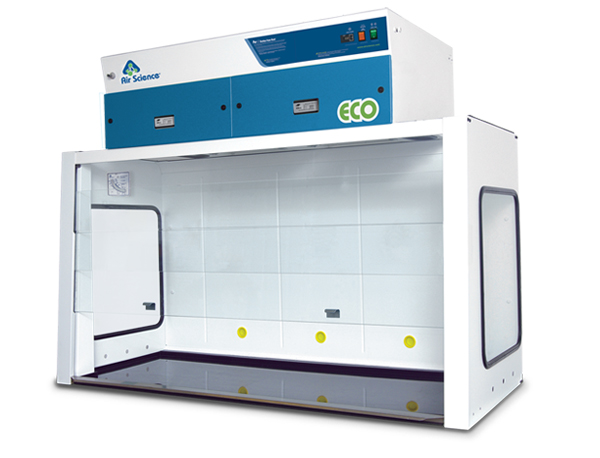 Product Features:

A. Filter I.D. Window: A convenient, strategically placed front cover window shows the installed filter part number and installation date; encourages timely filter replacement.
B. Steel Support Frame: The chemical resistant epoxy coated steel frame adds mechanical strength. Optional all polypropylene construction is available if desired; see accessories.
C. Tempered Glass Siding Sash: When closed, the cabinet sash protects the contents from inadvertent external contact and better isolates the air from within. The sash is easy to open and close.
D. Tempered Glass Side Walls: Clear side panels allow ambient light into the work area and provide a less obstructed view of the work surface.
E. Pass-Thru Ports: Electrical cords and cables are safely routed into the cabinet through ports on the back.
F. Electrostatic Pre-Filter: The electrostatic pre-filter is accessible from inside the chamber and 91% effective down to 1-3 microns.
G. Dynamic Filtration Chamber: The dynamic filter chamber prevents any possible leakage of contaminated air by pressurizing the fan plenum (positive air) and depressurizing the filter compartment (negative air).
H. Internal Manual Speed Controller: Authorized personnel may set the EC motor speed as desired.
I. Stand: Optional mobile cart with locking casters.
J. Safety Filter: The optional carbon or HEPA/ULPA safety filter adds an additional layer of protection. 
K. Track and Wheel system: The filter glides in on a wheel and track system, then clamps tightly against the filter gasket to prevent filter tears and maintain filter integrity.
L. Spillage Tray: A black polypropylene spillage tray is removable for easy cleaning.
M. Ergonomic Arm Rest: An ergonomic arm rest improves user comfort and productivity.