Description
Purair NANO Ductless Nanoparticle Containment Enclosures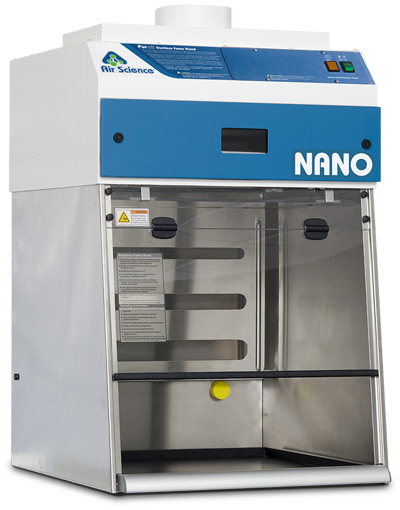 Product Features: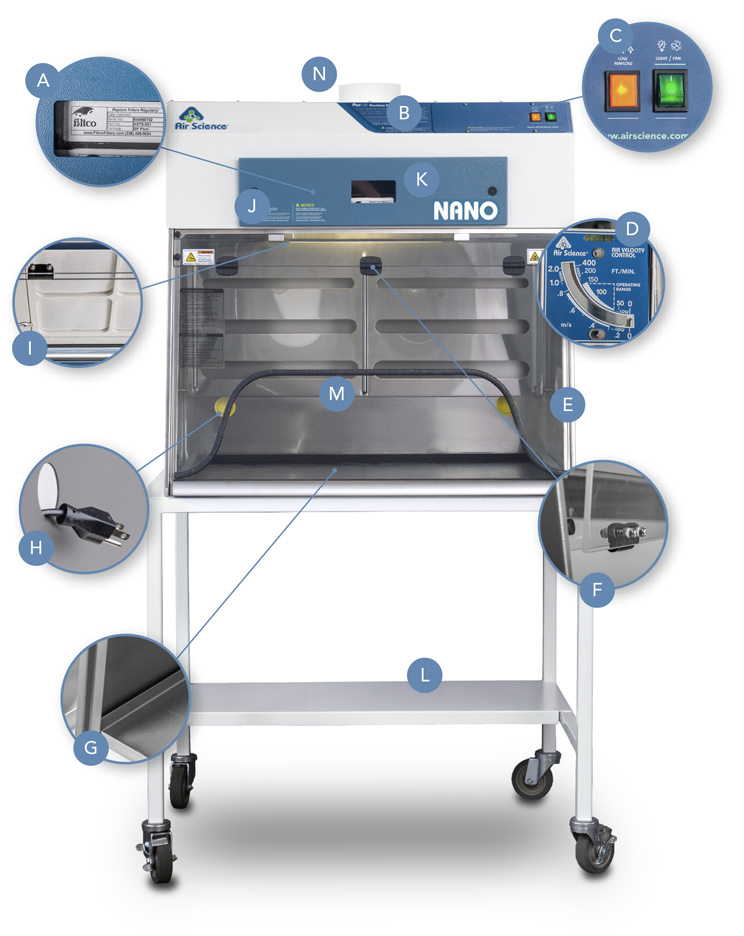 A. Filter I.D. Window: A strategically placed front cover window shows the installed filter part number and installation date to encourage timely filter replacement.
B. Control Panel: Electronic controls and displays include switches for the blower and low airflow alarm. Ergonomics, safety and aesthetics all come together with the 10º pitch of the face.
C. Airflow Alarm: Low airflow alarm continuously monitors filter loading and alerts user when service is needed.
D. Air Velometer: An optional analog air velocity meter is positioned in the user's field of vision.
E. Stainless Steel Support Frame: The 304 grade stainless steel provides excellent strength, chemical resistance, and is cleanroom compatible. The satin finish enhances illumination.
F. Hinged Front Sash: When closed, the cabinet sash protects the contents from inadvertent external contact and better isolates the air within. The sash is easy to open and close and includes a self-locking feature.
G. Work Surface: The internal work surface can be fitted with an optional polypropylene (available in white and black) or stainless steel tray; see accessories.
H. Pass Through Ports: Electrical cords and cables are safely routed into the cabinet through ports on the back.
I. Electrostatic Pre-Filter: The electrostatic pre-filter is accessible from inside the chamber and 91% effective down to 1-3 microns.
J. Filter Door Key: Filter access keys prevent unauthorized removal or accidental exposure to dirty filters.
K. Internal Manual Speed Controller: Authorized personnel may set the EC blower speed as desired.
L. Stand: An optional mobile cart with locking casters is available.
M. Rear Internal Baffle: Rear baffle provides smooth horizontal airflow pattern. Removable for easy cleaning.
N. External Exhaust Connection: Removable 6″ diameter exhaust connection port allows ducting to the outside and comes standard on every Purair NANO.