Description
Purair PCR Laminar Flow Cabinets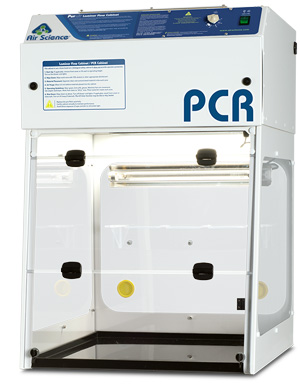 Product Features: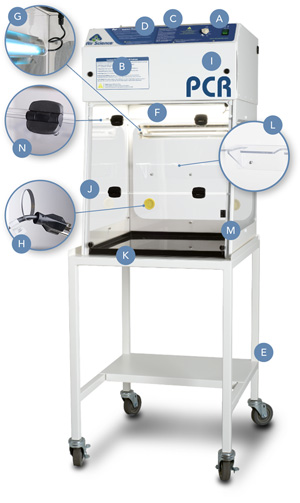 A. Control Panel: The integrated control panel features an On/Off switch for the fan, light, and UV lamp timer.
B. Main Filter: Main HEPA filter with 99.99% efficiency for 0.3 micron particulates.
C. Pre-Filter: The pre-filter can be changed while the unit is operating to prevent operator exposure to chemical vapors.
D. Fan: High-performance ebm-papst EC fan.
E. Stand: Optional base stand converts to mobile cart with optional locking casters.
F. Lighting: Compact LED cabinet lamp located away from laminar flow area.
G. UV Lamp: Built-in ultraviolet lamp with timer permits decontamination between PCR cycles. Includes a double-flap safety cover of 0.2″ (5 mm) UV absorbing 254 nm beta radiation resistant polycarbonate; provides superior operator protection while allowing easy access to the work zone. Timer can be set over range of 0 to 60 minutes or set to HOLD.
H. Pass Through Ports: Convenient rear wall pass-through ports for safe routing of instrument cords, cables, and leads.
I. Filter Door Lock: Prevents unauthorized removal or accidental exposure to dirty filters.
J. Ergonomic Design: Ergonomically angled front improves reach and user comfort.
K. Work Surface: Large polypropylene work surface, white or black standard with optional stainless steel work surface available.
L. Decontamination Shelf: Mounted on the back wall near the UV lamp for maximum exposure.
M. Magnetic Door Latch: Safety interlock prevents operator exposure to UVs when door is opened during decontamination cycle.
N. Double-Hinged Self-Locking Front Sash: The magnetic sash closure protects samples on the work surface from contamination with up to 90 fpm airflow.